The Nonwovens Institute at the North Carolina State University
and
are pleased to announce
the 4th international conference on:
NANOFIBERS, APPLICATIONS AND RELATED TECHNOLOGIES – NART
September 18 - September 20, 2019
Technical University of Liberec (Building G)
Liberec, Czech Republic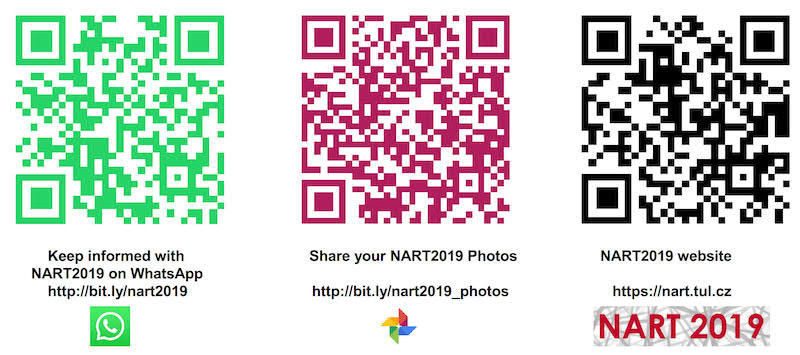 The objective of the conference is to accelerate the adoption of micro and nanofibers and related (nano) technologies in a wide range of innovative functional products.
The conference agenda will be organized into three concurrent sessions:
Micro and Nanofiber Technology and Trends – Topics will include a discussion of:
Technology Innovations and Trends
Characterization of Nanofibers
Modeling and Theoretical Considerations
Structure and Morphology of Polymeric Organic and Inorganic Nanofibers
Surface Modification and Functionalization of Nanofibers
Micro and Nanofibers and Related Materials – Topics will include a discussion of:
Nanofibers and Functional Nanoparticles
Nanofibers and Other Nanomaterials Synergies
Multi-Nano Applications (nanofibers doped with nanoparticles, nanofibers as nanoparticle carriers, nano-delivery systems for environment and bio-medicine, nano-bio-technologies)
Micro and Nanofibers and Other Nanomaterials in Products – Topics will include a discussion of:
Business Development Trends
Nanofiber Industry Challenges
Nanofiber Cost Benefit Analysis, Return on Investment
Nanofibers and Nanomaterials in Products

Automotive
Healthcare / Life Sciences
Energy
Environment / Water / Air
Infrastructure
Moreover, NART organizing committee in collaboration with the research project Alliance for Advanced Manufacturing in Central Europe (AMiCE) are pleased to invite SMEs, industrial partners, researchers, and interested citizens to take part in a specialized workshop during the NART program. In this context, the possibilities for Additive Manufacturing (3D printing) as well as Circular Economy will be discussed in an interdisciplinary way. The workshop will show the current state of research with a picture for the expected advances in the near future.
This conference will bring together experts in the field from universities, research institutes and industry with a common interest in the realization of innovative solutions achieved through the use of micro and nanofibers and other related nanomaterials. The scope of the event will be broad and will include both academic and industrial interests.
The deadlines of NART 2019 are:
Papers/Abstracts Submissions: July 31th, 2019
Authors Notifications: August 15th, 2019
Registration & Payment and Upload of Presentations: August 31st, 2019


The Conference Proceedings will be cited in the Web of Science databases. Also, selected best contributions will be invited to submit extended papers for publication in special collections of the Journal of Engineered Fibers and Fabrics (IF: 0.678) and the journal of Fibers and Textiles (SJR: 0.194).
Participants can attend all sessions and will have access to the online proceedings. In addition, an exhibition area will be available for the display of posters as well as commercial tabletop presentations.