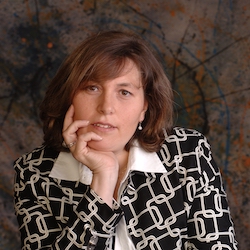 Director/Professor, Center for Polymers and Advanced Composites, Depart- ment of Chemical Engineering
Dr. Maria Auad is the Director of the Center for Polymer and Advanced Composites and full professor in the Department of Chemical Engineering at Auburn University. She has published over 65 technical papers in refereed journals. Her extramural support has come from a diverse set of sponsors such as the National Science Foundation (NSF), Department of Defense (DOD), Defense Threat Reduction Agency (DTRA), Department of the Army, USDA (US Department of Agriculture), and 3M among others. For all of her research activities, Dr Auad was the recipient of the 2018 College of Engineering Senior Faculty Award.
Her research interests include polymer material science, polymer nanocomposites, flow behavior of polymers, control of microstructures & nanostructure in materials, polymers for structural & biomedical applications.
Recognition
Samuel Ginn College of Engineering 2018 Senior Faculty Award
Recipient of 2015 Women of Distinction Faculty Leadership Award, given by the Auburn University Women's Resource Center.
Recipient of 2015 Mark A. Spencer Creative Mentorship Award • Outstanding Faculty Member, Department of Polymer and Fiber Engineering, Auburn University
3M Non-Tenured Faculty Award for "New Environmental Safe Barrier Materials"
Women in Science and Engineering Program (WISE) award, University of Southern California
M.C. GILL Corporation Fellowship, University of Southern California
Doctoral and postdoctoral fellowship, National Research Council in Argentina